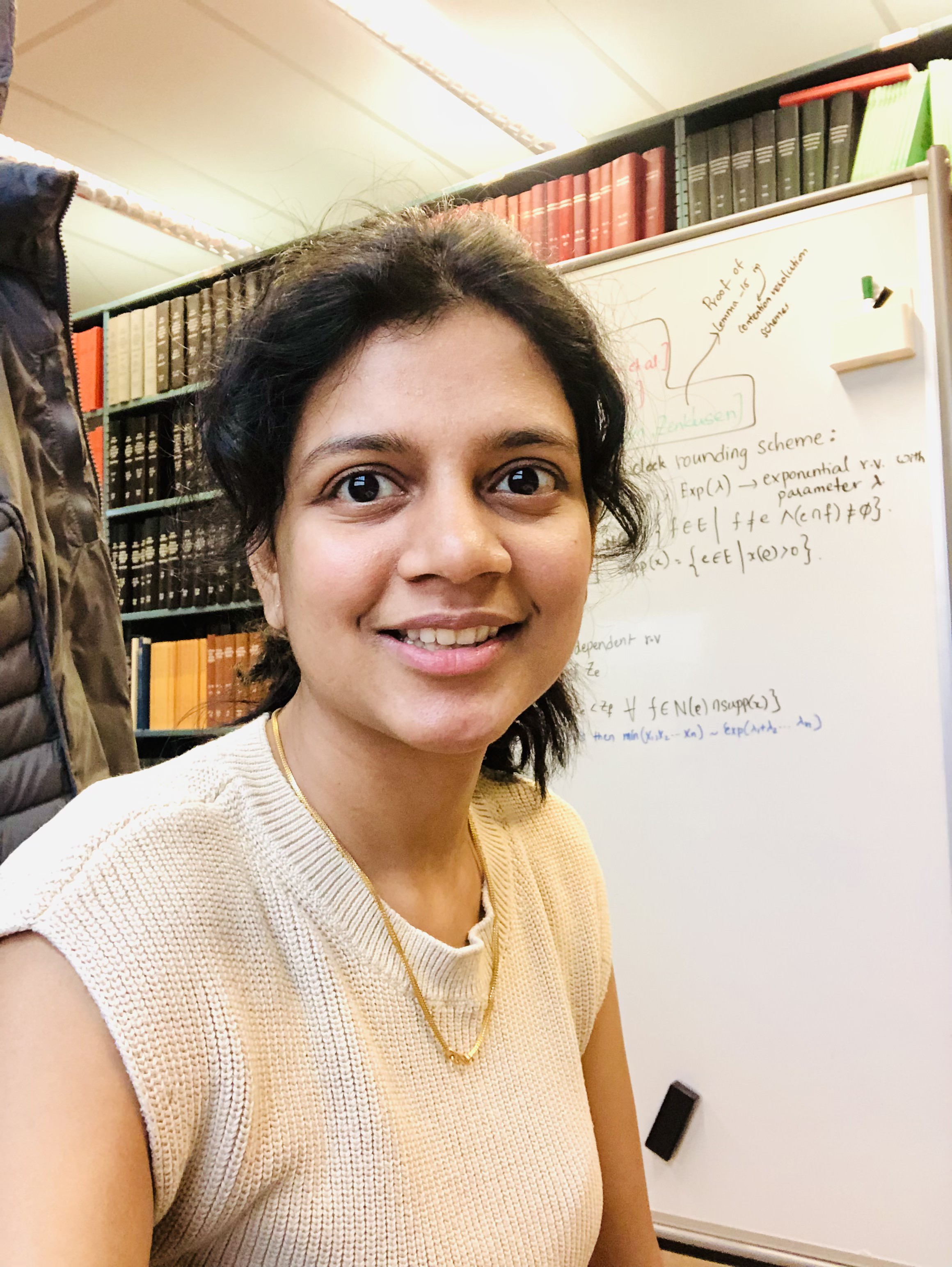 PhD Student University of Maryland, College Park

sduppala [at] umd.edu

sduppala [at] cs.umd.edu

I am a Ph.D. student in the Computer Science department at the University of Maryland, College Park, where I am fortunate to be co-advised by professors Aravind Srinivasan and John P. Dickerson. Prior to that, I was at the Computer Science department in Stony Brook University where I was very lucky to be advised by Prof. Rezaul Chowdhury. My thesis was focussed on reusable resource-allocation problem.

My current research spans Randomized Algorithms, Probabilistic Models and Fairness. My interests broadly focus in two directions :
(1) Algorithms for online stochastic matching models: Specifically, design and competitive analysis of algorithms under different online stochastic settings like KIID (Known IID distribution arrivals) and Random Order Arrivals.
(2) Algorithmic fairness in combinatorial optimization: Understanding the algorithmic challenges of incorporating "acceptable" and "meaningful" notions of fairness into stochastic and combinatorial optimization problems arising in ride-sharing, internet advertising, crowdsourcing markets, kidney-exchange markets, etc. Further, I am interested in understanding the merits and limitations of the fairness criteria in providing solutions to the underlying optimization problem.


News
Dec 1
Our paper titled "Rawlsian Fairness in Online Bipartite Matching, Two-sided, Group and Individual'' got accepted to AAAI 2023!
Aug 16
I was at KDD poster session for our recent paper on Fair Labeled Clustering at KDD 2022, Washington D.C.
May 28
I started my summer internship with Pan Xu from NJIT on Online Matching problems.
Papers
AAAI 2023, December 2022
KDD 2022, May 2022
AAMAS 2022 Extended Abstract, January 2022
Operation Research Letters 2022, January 2022
ICPADS 2021, December 2020
SPAA 2019, June 2019
Personal, but work related
Running
I love running! I registered for my first official half-marathon, the Rock 'n' Roll Half-Marathon at Washington D.C. on March 18, 2023.
Bouldering Competition
I competed in my first bouldering competition in Spring 2022 at Purdue Boulder Up! in Women's Beginner division (V0-V3).
Inclusivity & Engagement
I volunteered and co-designed (along with Arghya Sadhukhan) introductory material on group theory for high school girls at Girls Talk Math during the Summer of 2021.
I co-organized CATS (Captial Area Theory Seminar) at University of Maryland, College Park with Nathaniel Grammel during Fall 2021 and Spring 2022.